WizardChess
devlog 1: taking our sweet time
---
At some point this year I quietly changed the TwoPM tagline to
Thoughtful videogames, built patiently.
I can't be sure how long we'll stick with this but it's a nice way to sum up our thinking as of late. We work on games in our spare time, outside our jobs and already-full lives. Most of the time we dedicate to the game is thinking about in the background and occasionally sending 100 slack messages in rapid succession.
So, on that note, we've been thinking about next steps on the way to the next demo. Now we have a view of the macro-game we're somewhat happy with it seems logical to dive in and start implementing it... But sometimes you have to ask whether it's the excitement or the actual need that's motivating you. Upon reflection we decided that we should hold off filling out the macro-game until we feel the 6 basic unit types are well balanced against one another and that we have 6 enemy types that all require different strategies. Which lead us to... this: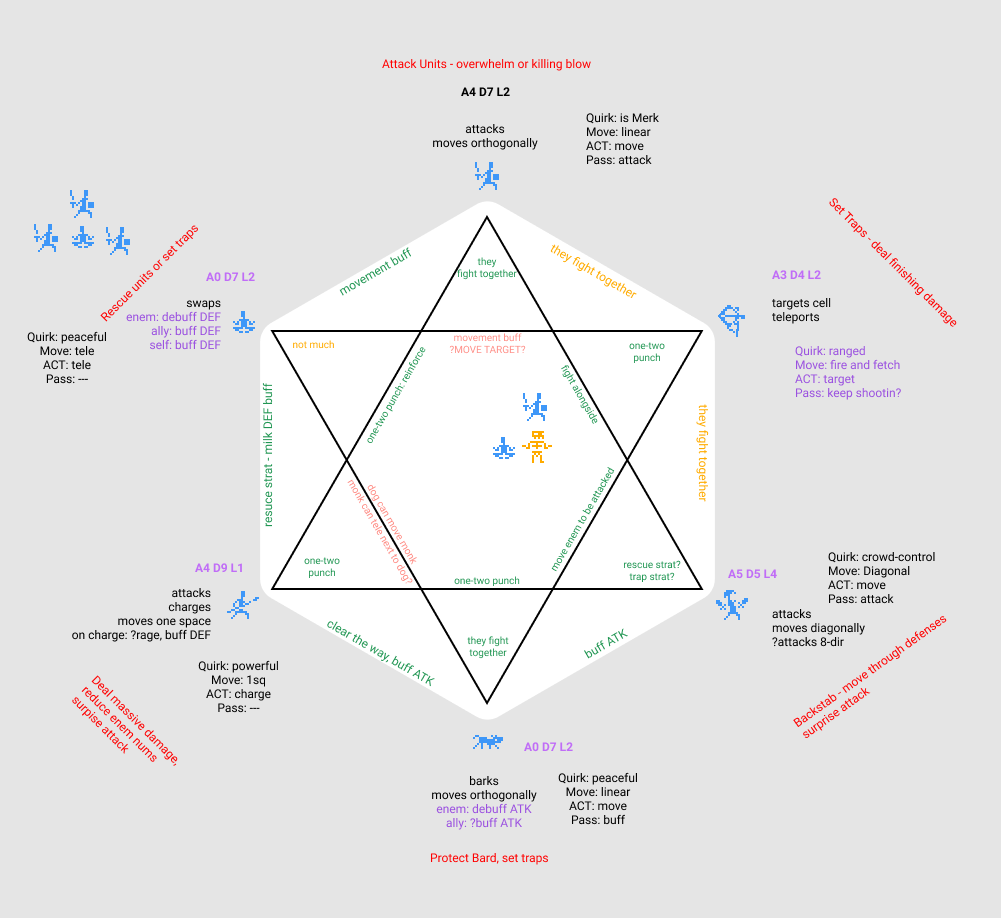 The above is the outcome of a multi-hour Discord call using Figma together. While it is probably incomprehensible to anyone but us, this has been almost fully implemented now and the game is feeling great. I'm especially enjoying the addition of the long-planned Archer, the only ranged unit in the game so far (see attached screenshots). We'll likely have to do something similar for the enemies once we create a few more!
Aside from that I've taken a little time to work on the visuals (see the attached screenshots again), I finally bit the bullet and found a simple way to add decorations to our base room models and I'm very happy with the results.
Up next:
3 more enemy types
Enemy balance & synegies
Enemy AI improvements
More maps in the new art style